Shopping Cart
Your Cart is Empty
There was an error with PayPal
Click here to try again
Thank you for your business!
You should be receiving an order confirmation from Paypal shortly.
Exit Shopping Cart
| | |
| --- | --- |
| Posted on February 17, 2020 at 2:10 PM | |
Did you know, the American Kestrel is the smallest falcon in North America! Only weighing 100 to 150 grams, this falcon loves open county, farmland, cities, and wood edges. These miniature flying jets hunt smaller birds but may also prefer to eat large insects or small mammals!
When hunting they are known for hovering in the air until they find their prey. Their size is roughly that of a Mourning Dove, but a tad bit bigger. They are one of the few bird of prey species in which you can tell a difference in the male and female. The male is very brightly colored with dark colored wings, light orange colored breast, a rust tone tail with a broad black band near the end. The female is has reddish/brown coloring over most of the body including the wings, with dark specks and streaks. Both sexes have pairs of black vertical slashes on the sides of their face often known as a mustache mark.
Their diet is mostly large insects, but may also eat small mammals, birds, and reptiles. Grasshoppers are among the favored prey, but many other large insects such as beetles, dragonflies, moths, caterpillars, and more. Voles, mice, bats, lizards, frogs, spiders, crayfish, and others are also considered part of the diet for kestrels.
What can you do to help the American Kestrel? Consider putting up a nest box to attract a breeding pair. Make sure you put it up well before breeding season. The best time to install your kestrel boxes would be October –January. You can work on Kestrel and Screech Owl boxes during our raptor box workshop in October, more information to come! 
Visit us soon to learn more about Birds of Prey! 
Next weeks Blog is about.....Coopers Hawks! Did you know that Coopers Hawks are Accipiters! Tune in next week to find out what that means!
-The Allison Woods OLC Team
Photo Credit: UNC Charlotte Urban Institute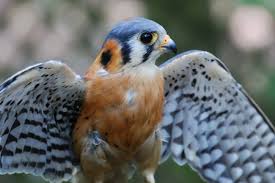 Categories: None
/